ICT
Teacher-in-charge of ICT & DCF
Ms E Cox
Teacher of ICT
Mr P Cooksley
Mr S Lee
Mr G G Thomas
Mr R S Thomas [ICT Coordinator & Assistant Headteacher]
COMPUTING - Years 7 & 8
At Afon Tâf High School we are following the new Curriculum for Wales setting up our students to be:
ambitious, capable learners, ready to learn throughout their lives;
enterprising, creative contributors, ready to play a full part in life and work;
ethical, informed citizens of Wales and the world;
healthy, confident individuals, ready to lead fulfilling lives as valued members of society.
The students will progress through the curriculum with the aim to teach them that "Computation is the foundation for our digital world".
Computation involves algorithms processing data to solve a wide range of real-world problems. Computational processes have changed the way we live, work, study and interact with each other and our environment. They provide the foundation for all software and hardware systems, but learners should also be aware of the limitations of what computers can achieve. Students at Afon Tâf High School will create and use digital technologies to their full potential, learners need to know how they work.
They also need to understand that there are broad legal, social and ethical consequences to the use of technology. This can help learners to make informed decisions about the future development and application of technology.
DIGITAL TECHNOLOGY / COMPUTING - Year 9
At Afon Tâf High School we will be preparing students for 3 routes dependent on their ability and skill within the subject.
GCSE Computer Science;
GCSE Digital Technology.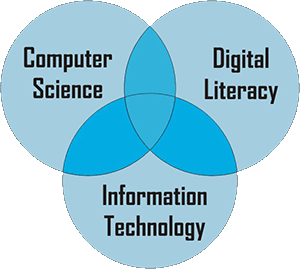 The curriculum has been designed to include elements from all of the three strands to create digitally competent students that are equipped for the next stage of their learning. Students will study a variety of topics that interleave the 3 strands based on a chosen theme.
DIGITAL TECHNOLOGY - Years 10 & 11
The WJEC GCSE qualification in Digital Technology is a broad-based qualification that allows learners to build on the digital skills, knowledge and understanding that is used both in their school and everyday lives. The qualification is designed for learners who wish to begin their journey towards a career that utilizes digital technologies or to progress onto advanced level programmes of learning involving digital technologies. The qualification will allow learners to develop their understanding of the range of digital technology systems at use in our connected and globalised society. It will also allow learners to explore the ever-evolving nature of digital technology systems and how these systems can be used productively, creatively and safely.
This WJEC GCSE specification in Digital Technology will enable learners to:
become independent, confident and knowledgeable users of existing, new and emerging digital technologies;
develop knowledge of different digital technology systems used across a range of occupational sectors;
understand the impact digital technologies can have on individuals and wider society and the ways in which they can bring about change;
develop skills in organising and analysing data to identify trends and audiences;
become creators of digital products, in a variety of formats and for a variety of purposes, that meet specified, authentic needs;
develop transferable skills in using a range of hardware and software;
develop their understanding of the systems development life cycle and of how ideas can become products.
Course set up:
Unit 1: The digital world
On-screen examination: 1 hour 30 minutes
40% of qualification
80 marks
An assessment (taken on-screen), comprising of a range of question types to assess specification content related to digital technology systems, the value of digital technology and perspectives on digital technology.
Unit 2: Digital practices
Non-exam assessment (NEA): 45 hours
40% of qualification
80 marks
A non-examined assessment comprising of two sections. In section A candidates will interrogate a supplied data set imported into a spreadsheet in order to inform
Section B, where they will create a website incorporating either an animation or a game related to a set context.
Unit 3: Communicating in the digital world
Non-exam assessment (NEA): 15 hours
20% of qualification
60 marks
A non-examined assessment focusing on marketing digital assets using social media. Candidates will create digital assets related to a set context and then formulate an online digital communications campaign around them.